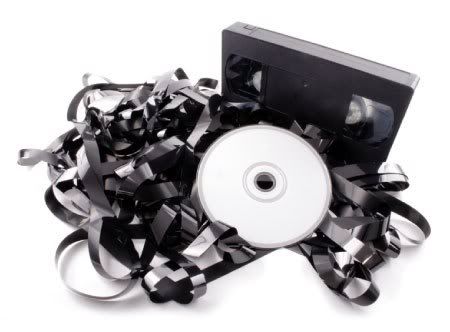 You live in America, so anything and everything can be "Do it Yourself". We even create a name for it: DIY.
Want to convert your VHS to DVD yourself? All you need is the right gear, some technical knowledge, and the standard requirement of DIY projects: Patience and Willingness to Learn.
First, you need to decide if you are converting your VHS tapes to DVD or to a digital computer file. If you are not sure which way suits your needs, check our video tutorial. The steps below are to transfer VHS to DVD. First, you need to set up your gear, you will need:
1) a Video Converter Deck to convert the analog (your VHS or VCR tape) to digital signal
2) a small TV screen to hook up to the Video Converter Deck so you can see the video
3) cables to hook all the components up
4) a VHS cleaning tape to clean the video converter deck. Your tapes are probably at least 20 years old. Without applying the cleaning tape after every couple tapes, you risk ruining your expensive Video Converter deck.
5) DVD Blanks
6) Printer that can print on DVD blanks – got to have a way of labeling your DVDs or you won't know what video's on it. Never use stick-on DVD labels – they peel, blister, and cause imbalance when the DVD rotates at high speed.
For the basic steps to convert your VHS to DVD with the setup above click here.